In my article UFBU Decides to Hold Back 4 Day Strike Also – Report in First Post dated 8th January, 2015, I have at the beginning itself has written as follows:-
"It appears that the deal between UFBU and IBA is already struck and they have started building a case for cancellation of four day strike. This may be one of the first news leakage to slowly change the mind of Aam Banker so that he is not shocked when suddenly UFBU announces that 4 days has been cancelled."
After 8th January, 2015, a large number of letters, counter letters, rumours from all and sundry are in circulation, creating total confusion about the status of 4 day strike. This type of confusion is best suited to UFBU so that Aam Banker is mentally well prepared to bear all types of shocks. Let us see some of the developments, before we analyse the same:-
(A) UFBU writes the following letter on 13th January, 2015 to IBA, wherein it is clearly mentioned that UFBU "requested the IBA to hold negotiations within the next 10 days and improve the Strike Notice dated 22nd December, 2014, would depend upon the progress in he talks in the interregnum, in the absence of which the proposed strike action from 21st to 24th January 2015, stands" The letter also requested to fix the next round of discussions immediately.
(B) Back to back of above circular, AIBOC also issued its circular dated 13th January, 2015, where it has written :-
"With a view to quell all rumours, misunderstandings and also to invite all the cadres to be in readiness to pursue our agitation, we reiterate that:
a) 12.5 % is not final and our endeavour to impress the IBA is on to improve their offer to meet the expectation of the Bank Employees and Officers.
b) Our strike action scheduled from 21/01/15 to 24/01/15 will be carried out as planned, if IBA does not initiate immediate steps to raise their offer to meet the genuine demands and aspirations of the Bank Officers and Employees."
Thus, after reading the above two circulars, I felt that UFBU and AIBOC seems to be taking positive steps to ensure that IBA is kept in under pressure and strike scheduled from 21st January 2015, on wards will be carried to logical end.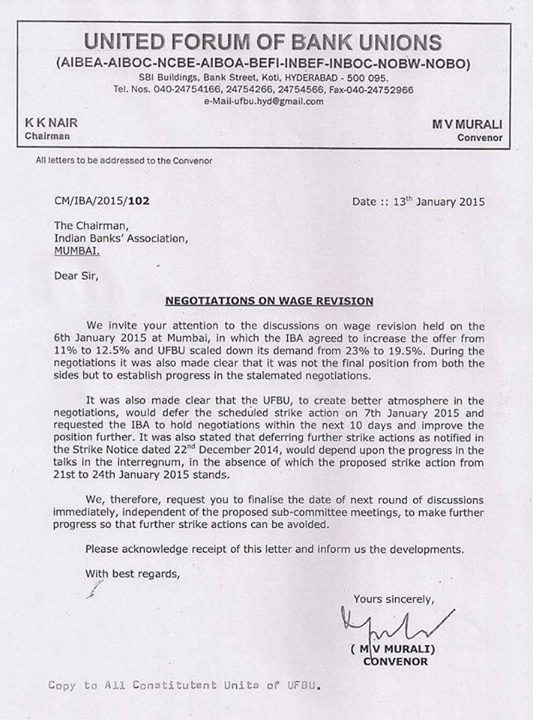 However, that optimism was short lived as, soon I saw a circular issued by IBA, which indicated the hide and seek game being played by UFBU and IBA to hoodwink the gullible Aam Banker. We are placing below the letter written very very promptly by IBA to UFBU (Letter by UFBU is dated 13th as well as IBA letter is dated 13th January, 2015). It seems the letter by UFBU was delivered to IBA right in the morning at 10.00 AM and they waited for IBA. The necessary discussions were held within IBA immediately and reply prepared and handed over to UFBU by evening. Great promptness by two organizations!! Every banker needs to clap this promptness, as IBA and UFBU normally sleep over for weeks and months to hold a negotiation meeting, resulting in a situation where even after 26 months, we are nowhere insight of the conclusion of the negotiations. This promptness raises certain doubts about what is being cooked to protect each other from the wrath of the frustrated bankers.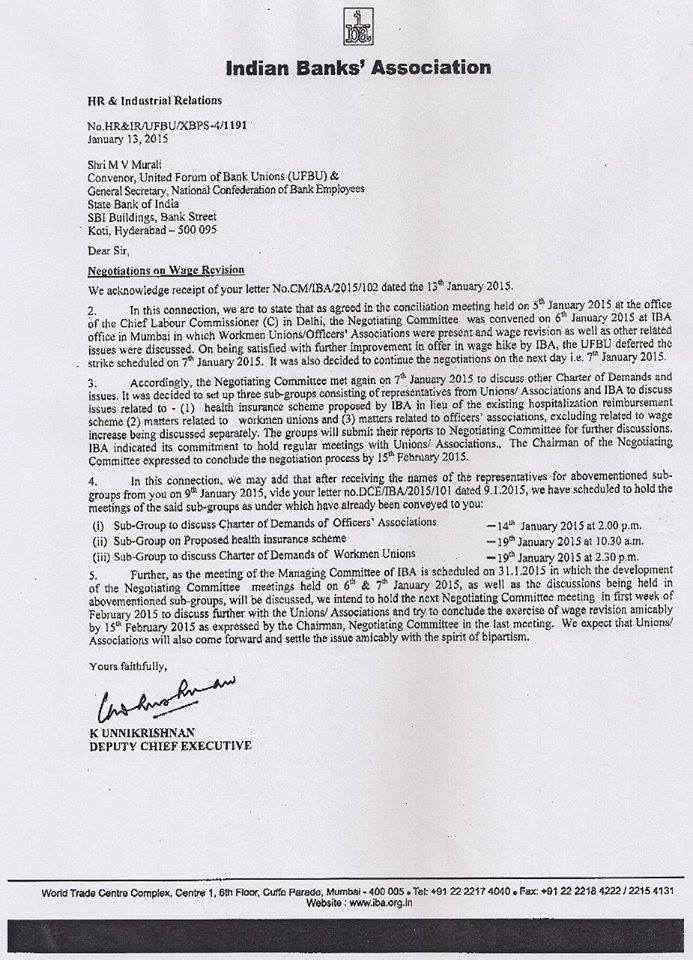 The above letter from IBA has amply made it clear that any serious next wage negotiation meeting will be held only in the first week of February, 2015. Thus, IBA has indirectly hinted that UFBU needs to withdraw their 4 day strike, and IBA is not interested at this stage to offer any higher increase than already offered at 12.5% increase on pay slip components. In the meantime, sub-committee meetings will be held for non-monetary issues. The first such meeting was held on 14th January, 2015. However, UFBU is reluctant to share the progress at this meeting, as IBA does not seem to be conceding even to non monetary benefits like regulated working hours. Now next sub-committee meetings will be held on 19th January, 2015, which are also to be more of discussion nature rather than any acceptance of any concrete proposals.
Thus, I am of the view that news leakage at Firstpost quoted in the beginning of this article was the first part of the strategy of UFBU, and now is the second part of the deal (in the shape of correspondence exchanged between two parties), so as to prepare bankers from shock of withdrawal of 4 day strike. I will be really surprised if this 4 day strike actually starts on 21st January 2015. After withdrawal of 4 day strike, UFBU is likely to take a stand that the indefinite strike proposed to be held in March 2015 still stands and is not withdrawn. Thus, they will continue to enjoy the frustration of Aam Banker and ensure that he is too tired to accept whatever is offered to them by March 2015.
I will be keenly waiting that I am proved wrong by UFBU leaders and a settlement is held at 19.5%, which is the pruned demand from the original demand of 35%. I wish UFBU reads the Charter of Demands originally submitted in October 2012, and see for themselves what they are likely to get actually vs what they have demanded.
.
You can give your feedback / comments about this Article. Please give only relevant comments as irrelevant comments are waste of time for yourself and our other readers.
blog comments powered by