By now all bankers are aware that the 90 days period sought by UFBU and IBA is coming to an end in next 5 days. As the BPS has already become overdue by over 30 months, and pressure in social media has tremendously increased, UFBU is in a great hurry to sign the BPS. However, they are not disclosing the details to anybody and in view of lack of trust towards IBA and UFBU, they fear this BPS will be the worst.
The time of writing this article is 19th May 2015 (Night), Since morning, we have been receiving different messages which are contradictory in nature.
In morning one of the message received from some authentic source read as "Wage revision talks with IBA progressing steadily and we expect to conclude entire process and sign anytime between 21st and 23rd May".
Then I came across a news from Kanpur, wherein it is reported that WE BANKERS have been able to get an order from High Court. This news has also been published in local newspapers, cutting of which is pasted below. Although final orders have not been seen by me but it appears HC has asked the CLC to settle the dispute raised by WE BANKERS within six months. This order is yet to be placed before CLC. WE BANKERS are hopeful that now IBA and UFBU will not be able to sign the 10th BPS till they are also heard by CLC.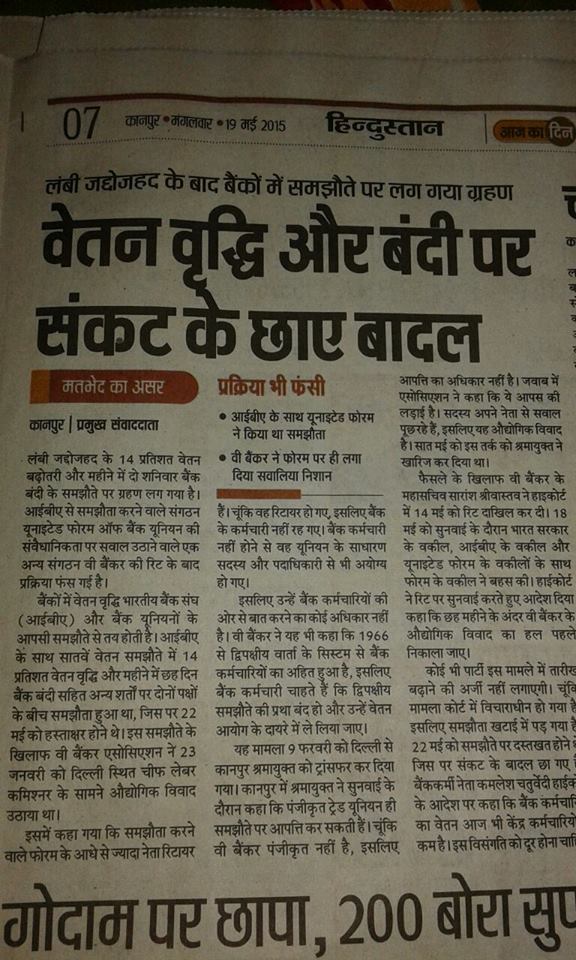 At the same time, UFBU and IBA has antagonized the retired bankers as they have reported to have excluded the demands of retired bankers from talks and they are not likely to form part of the 10th BPS. This Group too is looking for ways to stop the signing of 10th BPS till their demands are also considered and form part of the 10th BPS as has been the tradition in past BPS.
Thus, a group of bankers seems to be of the strong view that IBA and UFBU will not be able to sign the settlement immediately as one of the groups will bring stay order.
All the above has raised confusion as to whether the 10th BPS will be really signed by 23rd May, 2015. Even if signed, will they be able to implement the same before a Court stays the same?
However, UFBU has started a campaign, in the hope to sign the BPS latest by 25th May 2015, to release various types of charts through their local units which give you a broad overview of the things that are likely to be signed. However, nothing is confirmed and all that is being circulated is tentative and is subject to change even at the last moment.
Based on the past trends
, I personally feel it will be quite difficult for WE BANKERS and Retired Banker associations to stop the signing of 10th BPS
as IBA with money and muscle power is likely to push this through as it suits them.
By showing the threat of Court stay IBA is likely to create a fear among UFBU who will now be ready to sign on the dotted lines
as they do not have time to think and discuss it further.
Thus, the end result will be that 10th BPS may be signed as per wishes of IBA and may be kept in abeyance for few days, if any of the above two organizations are able to bring the Court stay.
After studying some of the Charts in circulation, it seems now IBA has sticked to its stand of 2% increase in Basic Pay but agreed to introduce Grade Pay / Special Pay, instead of loading the remaining 13% in HRA and transport only. The circulars now going around show that even DA will be payable on these Special / Grade pay. It seems because of the hue and cry generated by the exposure of ABS in its articles about merely 2% increase in BP, UFBU and IBA came on backfoot and thus agreed to introduce Grade Pay / Spl Pay. It is a good sign. But the question arises, why IBA was still interested to keep Basic Pay low and allow separate Grade Pay with DA? There must be some hidden agenda which we can comment only when final agreement is signed and put in public domain.
I have a gut feeling that there will be some surprise element, which can be extremely detrimental to a group of the bankers. Will the Grade Pay and DA on this will form part of "Pay" for the purpose of calculation of superannuation benefits like Pension, Gratuity, commutation etc. If UFBU agrees that any of these will not be accounted towards superannuation benefits then the bankers who are retiring by 2017 will suffer the maximum. We know there is maximum retirement by 2017. If this is the agreement, then it will amount to cheating with the senior bankers and it will bring lot of resentment, which will then be reflected in the growth of the banking till 2019 or so.
Thus, as on late night of 19th May or early 20th May, 2015, things are still in fluid state and we have to wait for another 48 hours till we hear something concrete on this issue.
You can give your feedback / comments about this Article. Please give only relevant comments as irrelevant comments are waste of time for yourself and our other readers.
blog comments powered by