I have been now waiting for almost two weeks for any concrete development for 10th BPS. A circular was issued only after the meeting dated 16th April 2015. The meeting dated 22nd April seems to be only a non-starter /eye wash only as except for small SMS, no leader has come forward to get the cadre the details of the developments in that meeting.
I have restrained myself from writing during this period as I feel even the most vocal bankers have been exhausted by the tricks and false promises of UFBU and IBA for last 30 months. They have lost complete trust in both these organizations. The recent developments have further shaken the faith of the bankers for an agreement. There are now doubts whether bankers will get two Saturdays off and whether they will get 15% increase across all components or they have to remain satisfied only with 2% hike in Basic Pay. All leaders are now in silence mode like Manmohan Singh. It seems from their hearts all UFBU leaders now believe that they have failed miserably and actually cheated the bankers like Mr Singh did under the disguise of Coalition Dharma. Soon these leaders will blame each other and say that they had to sign the BPS as UFBU is like a UPA and the respective leaders have to adhere to the Coalition Dharma.
Let me now discuss some of the developments of last two weeks, which are an indication that even the final promise of agreement within 90 days of MoD may fall flat soon. Even the issue of two Saturdays off may not be able to come out of the Chakraview.
On 28th April, 2015, UFBU has released the following letter. The letter is addressed to IBA and is only reminding the cosy IBA that the deadline of 90 days is fast approaching and thus a meeting should be arranged.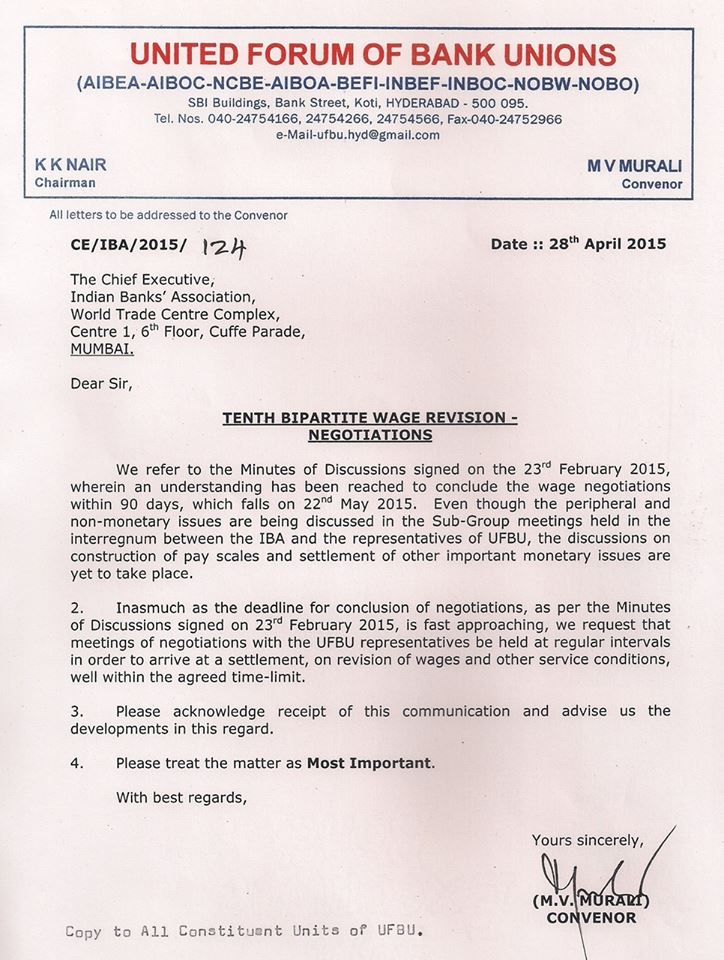 I wonder now after over 60 days, these leaders are realizing that 90 days period is going to be over soon. During these 60 days they had merely two or three meetings where no critical issues were discussed for wage revision. Why meetings were not held up on weekly basis? Is it not a priority issue for IBA and / or UFBU? In every circular, these leaders have mentioned that the attitude of IBA is positive. Should we then believe that it is only UFBU leaders who are negative or in each circular these leaders give only false hopes that IBA is positive?
The contents of the letter indicate as if there is a understanding between IBA and UFBU to extend the period of 90 days, and it is only a ploy to make fool of the bankers that UFBU leaders are now writing to IBA that meeting should be called at an early time.
Therefore, I will not be surprised if soon you see a circular indicating that IBA needs another 60 days to sort out the issues with UFBU. I can only hope that my fears do not turn in to reality. In the past we have so many postponements and overshooting of deadlines that we seems to have lost all hopes that even this time deadline will be met.
Now coming back to another issue i.e. 2nd and 4th Saturdays to remain off in banks. We have seen so many rumors that it is difficult to find out the true status of this. No leader is ready to commit anything as it seems now IBA is trying to back out of the agreement on this part as it might have overshoot the mandate given by GoI. I would like to give below the link of our article which gave some clarity on the issue based on the circular of top union leader :-
<![if !vml]>
<![endif]> Status of Full Holidays on 2nd and 4th Saturday in Banks – Many Hurdles To Be Crossed. This May Remain a Dream For The Time Being by Rajesh Goyal (uploaded on 04/04/2015 at 11.30 AM)
In view of the dilly dally attitude of IBA, no UFBU leader is coming forward to say whether it will be really implemented and if so from which date. I have also come across the following letter of IBA dated 21st April 2015, sent to sponsors of RRB banks etc. Initially I thought it is a forged letter, but it seems to be authenticated letter as nobody from UFBU has denied about this circular. The worst part is no leader has thought it necessary to react to this letter, which has wide ramifications. At least I was expecting some of their views on this letter :-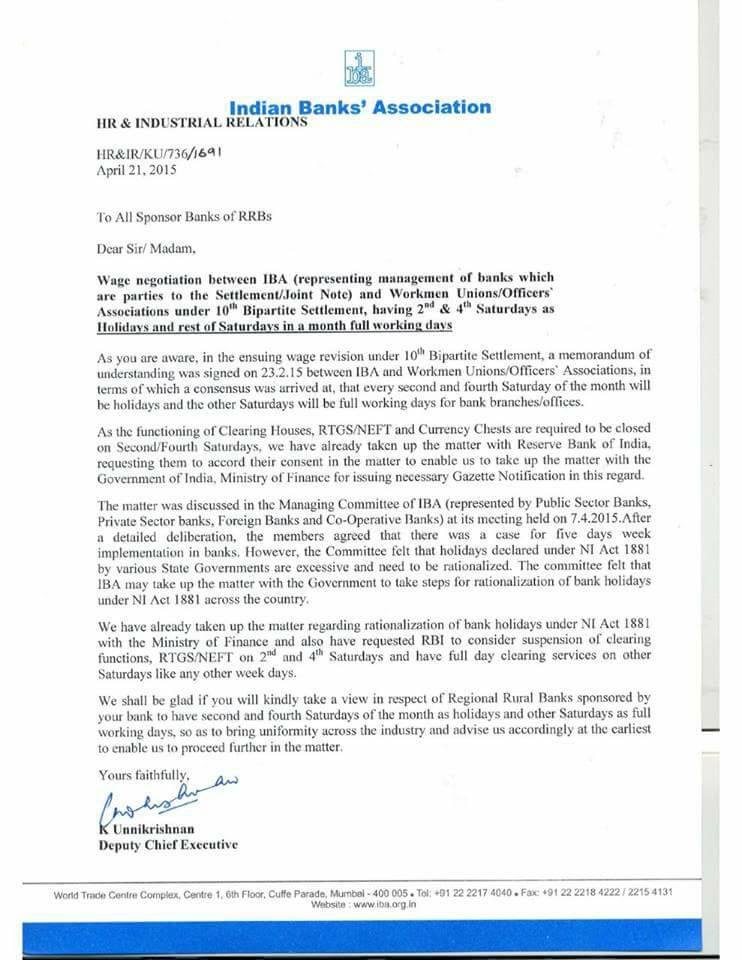 .
A reading between the lines indicates that it is the way out IBA and UFBU have found out to befool the bankers. An analysis of the above circular indicates that instead of giving clarity after a lapse of 2 months from the date of MoD, now IBA has woken up to the issue of seeking views of sponsor banks for holidays in RRBs. Can we have two parallel systems running in the banking industry in India. Moreover, there are far lesser issues in rural areas for closing of the banks than in the urban areas where educated and corporate world wants to get 24x7 banking facility. I wonder what stopped IBA to write this letter 45 days earlier? UFBU are not posing such uncomfortable questions to IBA as it has lost all its credibility and are no more than toothless tigers, who is surviving on whatever bites are thrown to them by IBA.
The worst part in the above IBA letter is mixing up of this issue with the issue of rationalization of bank holidays across India, as MC of IBA felt that the holidays in banks are excessive in nature and thus needs to be rationalized (means curtailed).
Thus, now IBA may come up with a proposal that Banks needs to have only three national holidays + 2 Saturdays off in a month if Parliament agrees to pass the amendment in the NI Act.
Thus, now there is every chance to mess up this issue of 5 days working in banks, with so many if and buts. Slowly bankers may lose their interest and the demand may die its natural death. Let us hope that the threat of Mr Harvinder Singh that there will be no BPS without 2 Saturdays being declared holidays is followed by all the participants of UFBU and they do not cave before IBA.
All bankers are aware that on number of occasions IBA has refused to hold talks merely on the ground that "they do not have the mandate of the banks /GoI" to discuss a particular issue. I wonder how come this time IBA has agreed in MoD of 23rd February 2015 they will offer two Saturdays off. Did they not have the mandate from GoI / RBI on this issue? Was the team of IBA was so novice that they entered into agreement without the consent of RBI / GoI. In case they had the mandate of RBI / GoI, then what is the hitch in issuing the notification or introduce the changes, if they are really needed at all.
Let us now go to next issue. I am sure by this time most of the bankers must have gone through the AIBOC circular dated 18th April, 2015, issued by Mr Harvinder Singh. (if you have not read the same go to this link http://aiboc.org/wp-content/uploads/2013/10/aibocclr-2015-20.pdf )
In the above circular, he mentions a very interesting thing, which reads as follows:-
"On other issues, we requested all the constituents of UFBU to take a common stand of loading 2% on basic pay and DA as on 31.03.2012 as per the terms of MOU and not to compromise on anything else. On this issue, a couple of constituents had a different view. We shall try to convince them with our view and shall endeavour to ensure that our interpretation of the MOU on this aspect of loading is demanded by the UFBU. This interpretation is all the more necessary in view of the fact that there are lot of constraints in construction of pay scales with a limit of 2% of loading on basic pay and DA. We also made it very clear in the UFBU meeting that we will not sign any agreement till the time the second and fourth Saturday off in the Banking Industry is ensured or a firm commitment is signed by IBA in this regard giving a time line for its implementation".
Readers are aware that we at ABS were the first to bring to light the faux pas of UFBU leaders in signing on the dotted lines of MERE 2% in crease in basic pay. At that time we were severely criticized that we are interpreting it wrongly. Now Mr Singh confirms that till date, UFBU leaders do not have a common stand on the loading of 2% of BP. He now clearly admits that there are lot of constraints in construction of pay scales with a limit of 2% loading on Basic Pay and DA. Thus, we were absolutely right, when we wrote in our articles that UFBU leaders have signed MoD dated 23rd February 2015, without applying even the common sense, forget about the detailed analysis of such an agreement. Will they repeat this act on 22nd May also. Let God save the Aam Banker.
You can give your feedback / comments about this Article. Please give only relevant comments as irrelevant comments are waste of time for yourself and our other readers.
blog comments powered by