UFBU leaders met Union Finance Minister, Mr Arun Jaitley on 27/06/2014, i.e. about 50 days ago. At the end of the photo session with FM, the union leaders were told that R S Sandhu (Financial Services Secretary) would look into the matter and verbal assured that the settlement process will be expedited.
The 27th June meeting was extremely successful from the point of UFBU leaders as (a) they got a chance to be photographed with new FM, which can adore their offices and homes; (b) they got another alibi to not follow up with IBA at least for few weeks. They issued circular and told their cadre that FM has himself intervened and has given instructions to Mr Sandhu to do the needful. In my childhood I have read number of stories wherein professional cheats (like Natwarlal ) were able to successfully hoodwink gullible people again and again. All those made interesting reading in those childhood days. But now this ripe age, mass scale hoodwinking of almost 10 lakh bankers, does not bring any smile on my face. It only brings agony as to the helplessness of the Aam Banker. This is one of the reasons that I do not feel like writing articles on wage revision without any noticeable progress.
To consolidate the matters, let me publish here about the developments in last 10 days or so. We have seen exchange of few letters between IBA and UFBU / other leaders. The contents of these letters are so listless that one can not really make out where we are heading.
Let me re-produce the correspondence recently accessed by us but I leave it to our readers as to infer whatever they deem fit :-
Annexure I : Letter dated 5th August, 2014 from UFBU to IBA
The Chief Executive,
Indian Banks' Association,
World Trade Centre Complex,
Centre 1, 6th Floor, Cuffe Parade,
MUMBAI – 400005
Dear Sir,
10TH BIPARTITE WAGE REVISION NEGOTIATIONS
Please refer to our Letter No. UFBU/IBA/2014/65 dated 16th July 2014 on the captioned subject, expressing our concern for not holding any meeting after 13th June 2014 so as to continue the negotiations. We are yet to receive your response in the matter.
We were given to understand that the issue was supposed to have been discussed in the recently held Managing Committee Meeting of IBA. In this connection, we have to inform that the growing unrest among the employees and the undue delay in conducting the negotiations at regular intervals have become matters of serious concern. We shall, therefore, be glad to have your immediate response in this regard.
The uncertainty and lackadaisical attitude cannot be allowed to continue for eternity. It is desirable to take forward the negotiations in the interests of everyone to create a better atmosphere and avoid unpleasantness. We await your immediate response without any further delay.
Please treat the matter as EXTREMELY URGENT.
Please acknowledge receipt of this communications and advise us the position.
With best regards,
Yours sincerely,
Sd/-
(M.V. MURALI)
CONVENOR
Annexure II : Letter dated 8th August, 2014 from IBA to UFBU (In response to UFBU letter dated 5th August 2014)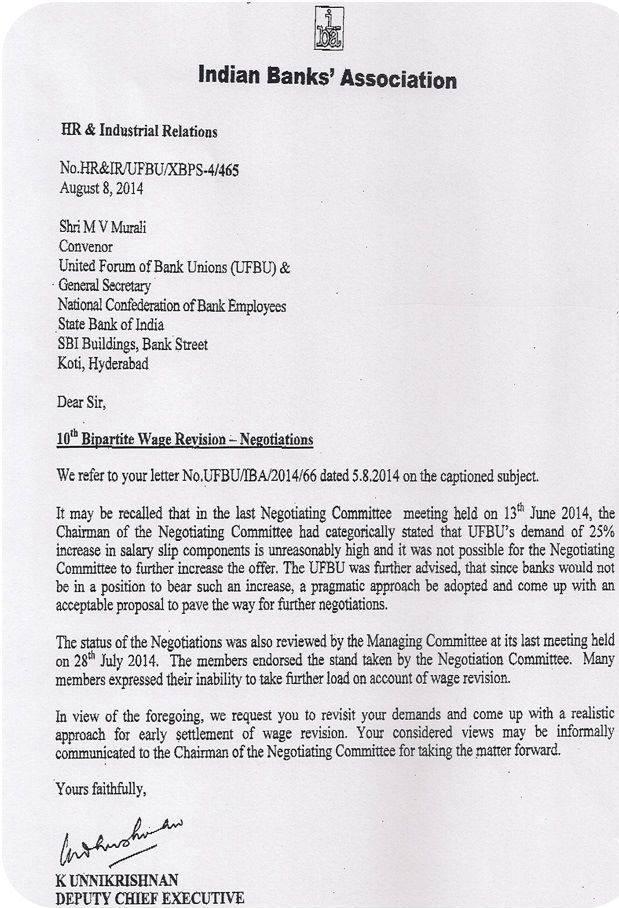 Annexure III : Letter dated 9th August, 2014, from UBFU to IBA (In response to IBA letter dated 8th August 2014)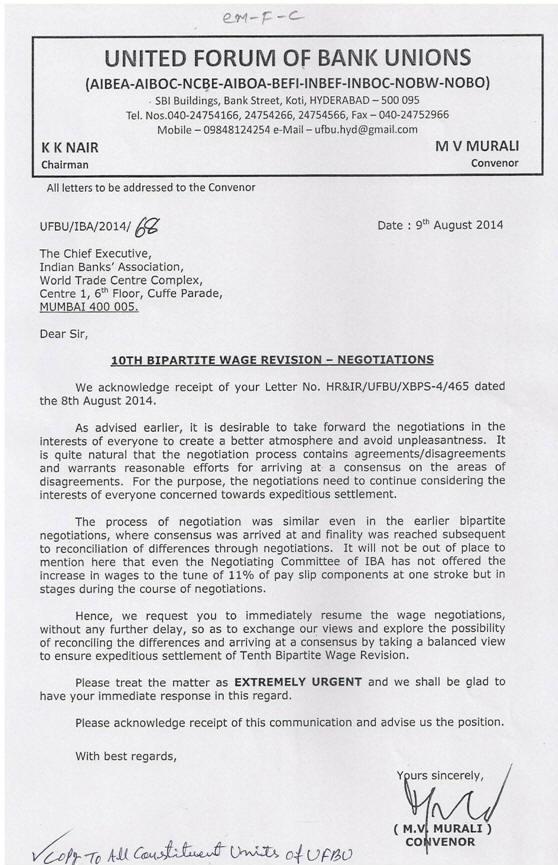 Thus, even after 40 days of meeting with FM (which UFBU leaders felt to be break through and flashed their photographs through social media), there was no response from government and UFBU had to send reminder to IBA to get a response for next Negotiation Meeting. Post that, a bombshell came, as IBA showed no hurry for a meeting, but responded curtly and asked UFBU to bring down their demands if they wish a meeting to be called.
The only positive point here is that these three letters got exchanged within a span of four days. Letter dated 8th August of IBA got delivered by early 9th August 2014 (I am not sure which mode was used by IBA for super delivery), and UFBU leaders held consultations within few hours (Again I am not sure whether it was through tele-conference or skypy or other internet mode) and ensured that letter is drafted, signed and sent to IBA within few hours of its delivery (that is on 9th August). All credit to UFBU for super speed as on earlier occasions we have seen they hold a meeting which takes at least 10 to 15 days, and then after consultations they agree to take next step.
Thus, now IBA has given an idea for negotiation through letters and not through meetings. Now, it seems IBA wants that UFBU should give in writing that UFBU is agreeable to slash their demand from 25% rise to say 18% to 20%. Then IBA will write back that it is still not acceptable and they can go maximum upto 12%. Again a stalemate and then again IBA will write letter to UFBU to slash demands which UFBU may agree to reduce to say 15%. Then IBA may agree to increase their offer to say 13.5% and UFBU jump to grab the same.
Thus, we can now say that UFBU may be told that there is no need for meetings from this BPS itself and they can negotiate it through correspondence. Exchange of 9 letters within two weeks can conclude the negotiations. Union Subscription can be reduced from Rs 100 to Rs10 pm. No need for levy.
Great Idea, Sirji!! No Ullu Banawing
You can give your feedback / comments about this Article. Please give only relevant comments as irrelevant comments are waste of time for yourself and our other readers.
blog comments powered by