by
In today's newspaper (7/9/2012), I found three items to be baffling as I was not able to reconcile them. Three items were : (a) "RBI Advises Against Gold Investment" (advise is mainly to poor people); (b) "Gold Prices May Touch Rs35K" (c) An ad by SBI slashing interest rates on fixed deposits. On first look they may appear to be different news items but a deeper look in reading of all three items together gives a reflection of bankruptcy of our leaders in giving a direction to the economy and about the goals of RBI and GoI. Let us analyse these news items.
First about SBI's decision to reduce the interest rates on Fixed Deposits. There is no doubt that after de-regulation, each Bank is totally free to take decisions regarding rate of interest they intend to pay. To this extent one should not question SBI's decision in reducing FD rates. However, it appears SBI is working aloof of the current realities of our economy. This decision appears to have been taken purely to counter the impact on profitability owing to recent sharp increase in NPA provision requirements. We all know inflation is still running high and RBI is deeply disturbed by this fact. Thus it is no time for cutting deposit interest rates as it hits badly to the poor people and senior citizens who are dependent on bank returns. Thus by reducing interest rate on deposits, SBI may be trying to boost its credit portfolio by lowering interest rates to corporates but national goals do not warrant this step. RBI DG is saying people are forced to invest in gold as bank returns are poor. RBI wants people to invest in banks rather than gold. There is no clear signal whether SBI is right or RBI is right. At this stage of economy, when poor and middle class are already reeling under severe inflation and scams, thus reduction in FD interest rates was not expected from a leader bank like SBI. It will further discourage investments in banks.
Coming to second news "Gold Prices May Touch Rs35,000". This is on the expected lines and Indian regulator or banks have little control as domestic prices of gold are based on international prices. However, one factor which is of importance is the USD- INR conversion rate. Owing to bad fiscal policies and poor management, GoI and RBI have failed to check the continued depreciation of Indian rupees. There is depreciation of about 20% in last few months. Had USD-INR conversion be around Rs 45/-, the gold rate would have been around Rs 27,000/- and not Rs34,000+. Thus, to attribute that GoI and RBI have no role in gold prices in India is totally wrong. GoI and RBI needs to check sharp depreciation in India Rupees so as to keep the gold prices in check. Mr Chakrabarty being a part of RBI top management can not absolve himself completely from the mismanagement on foreign exchange front. Thus, instead of blaming people of India for their love for gold, he needs to look into policies of RBI and what he professes. Everybody knows even today how Congress evokes emotions when GoI had to pledge gold in early 1990s. RBI believes gold is not good for people but is good for country!
Now coming to third and most important news item which struck me today is "RBI Advises Against Gold Investment". I think ToI has wrongly worded the headline. It should have been "Chakrabarty Advises Poor People Against Gold Investment". I think readers will agree that equating Chakrabarty's opinion as that of RBI or that of Governor will be wrong. The news item indicates that Mr Chakrabarty advised the public against choosing gold as an asset for savings or investment. Mr Chakrabarty, DG RBI also said "Because interest rates are very low, people are investing in gold. But the poor should NEVER invest in gold for whenever they have purchased gold, it either lands up in the temple or in the hands of the moneylender or, at the most, it may be given away during a daughter's marriage".
It is interesting to read his arguments and advise. He advises the poor not to invest in gold. He says, poor people invest in gold because interest rates are low. Are poor people not have a right to get good returns on their investments and try to beat inflation which is hurting them the most. Who is responsible for low rate of interest paid by banks inspite of high inflation ? Does regulator has no obligations towards the poor people if banks do not tow the line of RBI. Mr Chakrabarty needs to know that in rural India, women part with gold as a last resort whereas money in banks is never under their control and is spent or wasted by men on social customs. Gold is considered by women as a social security in rural India.
I feel Mr Chakrbarty will have no easy answers to above questions. I have been advocating for market related interest rates for saving banks in PS Banks also which are mainly used for savings in rural India. The main purpose of de-regulation of SB interest rates last year was that banks will pay market related interests on such deposits. However, through hidden cartelization, PS Banks have kept SB interest rates at 4%, whereas private players in big cities are paying 6% to 7%. Now RBI DG is blaming poor people that they are investing in gold and advising them to keep money in banks though they may be paying lower rate of interest. Why RBI does not advise PS Banks to pay market related rate of interest on SB accounts to rural folks. RBI is sleeping silently on this issue, though I have flagged this on more than one occasion. Mr Chakrbarty, please do not blame poor people for investing in gold as GoI and your team have failed to put the right policies. Hordes of black money by rich and politicians is used for purchasing gold. At this rate poor man can hardly purchase even one tola. The policies are pro-rich and not pro-poor. Corporate are cramming for lower rate of interest in the name of growth of the economy, and banks are also singing the same tune. RBI can try to befool the poor in the name of financial inclusion, but this will further bleed rural India as it was done during British period. Take their money at low rates and lend these at base rate to big corporates. Policies needs to be pro-poor.
As I was going through web-contents for above news items, I read an interesting comment from one of the readers of ToI. It reads "Dr KCC should first make a disclosure of his (including his family) own investment in gold before offering sermons. If he really has the guts, he must address the Parliament and State Assemblies to LECTURE to the so called MPs and MLAs not ot invest in gold. Further he must recommend to the Govt to "buy back or seize" all the gold holdings of these MPs and MLAs and distribute the cash to the poor people if he is really interested in protecting the interest of the poor.. What he speaks only reveals the INCAPABILITY of RBI to resolve peoples' economic woes".
The above comments about KCC, appeared to me slightly harsh. On a lighter note, his personal love for gold was made evident to me, as somebody asked me to look at his fingers in the photographs available at google search. After viewing two photos received by us that appeared on websites of "The Hindu" and "TopNews.in", I have no further words to say as he is certainly not poor. Rich people need a lot of such rings with precious stones to evade the evil eye of poor people. Let my poor and middle class readers decide whether what Mr Chakrabarty says is correct.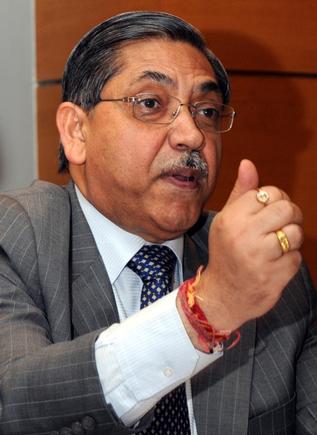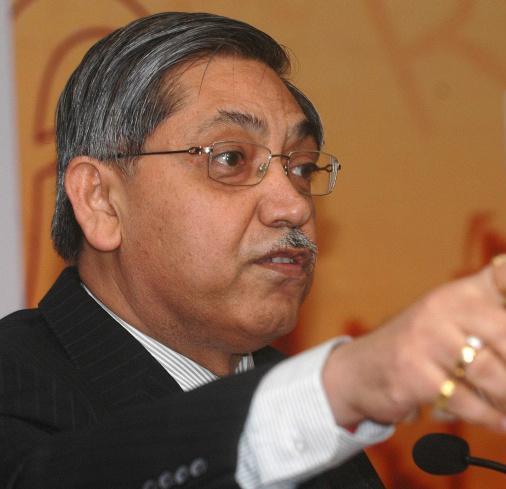 Such controversial statements need not be issued merely to get publicity and divert attention from real issues like upliftment of poor people
You can give your feedback / comments about this Article. Please give only relevant comments as irrelevant comments are waste of time for yourself and our other readers.
blog comments powered by