We at ABS are shocked about the news that Mr. Sudhindra Murthy, Chief Manager in Canara Bank, JP Nagar (Bangalore) branch has committed suicide. The reports indicate that the 57 year-old Chief Manager of Canara Bank committed suicide by hanging himself from the ceiling fan of his house after performing puja around 1am Wednesday. He was apparently disturbed over constant harassment by his senior officials over loan recovery issues.
It has already set ripples among the officers community across the banking industry. We were wondering whether this should be an issue to be raised on this forum, and decided to share this with a heavy heart with bankers across India as we feel the problem of harassment of junior officers is at banking industry level, and not merely confined to one bank – though the magnitude may be different in different banks.
Although the final details of the suicide, reasons for the same and action taken by police and bank will be known only in days to come, yet the various news items, and emails from our readers have brought the following facts / comments in this case:-
TOI reports that Murthy hanged himself from the ceiling fan of his house after performing puja around 1am on Wednesday, April 27th. He is survived by his homemaker wife & two daughters. Asked why he was performing puja late in the night, Sudhindra said he wanted to ask god something. After the puja, he locked himself in his bedroom before taking the extreme step. The incident came to light around 6am when his younger daughter opened the bedroom door and found Murthy hanging from the fan. He had used the shalya (shoulder cloth) which he wore while performing puja to hang himself.
Mr. Murthy's wife told the police, "My husband led a tense life; he would say loan recovery is eating into his happiness. He would get constant calls from his seniors, seeking explanations on loan recovery issues. The seniors would direct my husband to grant loans to persons recommended by them. But when it came to recovery, only my husband took the blame."
His suicide note gave details of how his seniors allegedly harassed him for not recovering loans. The suicide note reads, "I am harassed by seniors over loan recovery issues. Should I visit each loan holder's house and beg for instalments? I should have been assistant general manager by now. But my seniors spiked my hopes of promotion saying I was not recovering loans properly," Murthy wrote in Kannada.
We are also sharing a note written presumably by Mr. Murthy, and sent to us by one of our esteemed readers. Please take a moment to read the letter, and think about the situation under which Mr. Murthy was forced to make this decision. We believe that every banker can feel the pain that Mr. Murthy was going through, and can introspect on our own situations.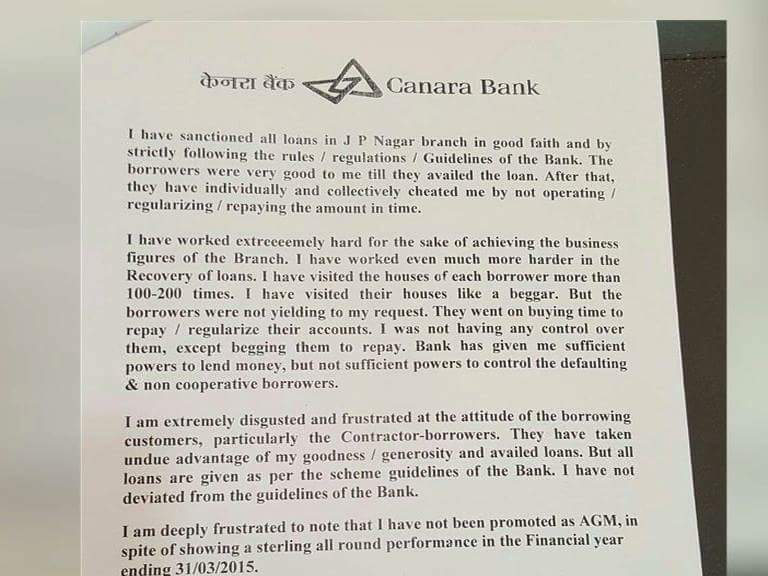 It is a grave matter of concern for all of us here at ABS, as we have always stood by the bankers community, and know that a number of bankers have put almost the whole life for the bank without caring for their parents, spouse and children. However, in then end, they have to face such consequences.
We pray to God to give enough strength to the family of our departed soul, so that they can cope with the unnatural death.
There is a need for all the bankers to ponder upon for few moments and decide that in this mad race for achieving the targets / going up the ladder, we should never cross the Laxman Rekha of hurting others. Crossing such rekha to catch the golden deer can bring untold misery.
You can give your feedback / comments about this Article. Please give only relevant comments as irrelevant comments are waste of time for yourself and our other readers.
blog comments powered by