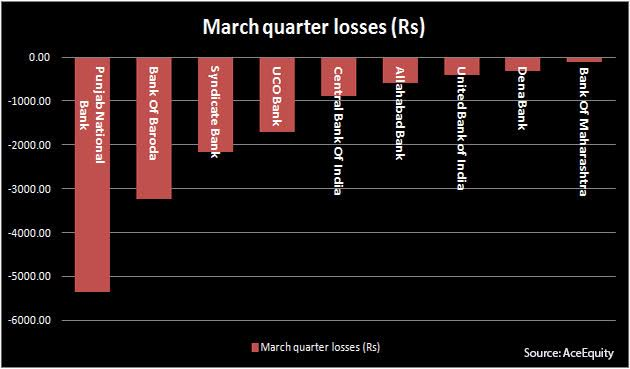 Inspite of continued and repeated claims made by various Ministers of various governments as well as by bankers of various banks during last one decade and more, that health of banks is not alarming and within control , one after other PSU banks is booking losses and losses are breaking all past records of banking industry. Even strong banks like PNB and BOB have created record in booking losses and in increasing volume of bad assets in total credit. After PNB's results, the total losses of nine out of 18 public sector banks who have declared their March earnings till May 17 now stands at a whopping Rs 14,808 crore. The crisis in the banking sector is hitting new lows every day after the Reserve Bank of India's decision to force banks to acknowledge their bad assets in their balance sheets by March 2017 ( see graphic above ). Still Government as well RBI says that banks are safe.
If SBI also dare speak the truth and if SBI shows courage to book all bad assets as NPA , I think it will break all records and book maximum loss and create history in banking industry. I think loss booked by SBI and total volume of NPA will not be less than aggregate of all PUS banks. It all depends on honesty of banks in identification of assets and recognition of income as per RBI norms.
No power can stop public sector banks moving from bad to worse even in coming years. Officers from top to bottom at powerful positions are birds of the same feather. They think more for their welfare on priority and less for bank they are associated with. Unfortunately and strategically good officers are always posted by these clever top officials at critical places so that their voice is unheard and the loss their stamina to fight against corrupt officials and corrupt politicians. Politicians add fuel to fire and they leave no stone unturned to damage health of banks. They also think for their vote bank and use banks as mulching cow for their family and friends. None of them think for good of Banks. They are more often than not selfish and corrupt.
NPA as such will continue to rise and rise. Politicians and top bank officials will always make promises to correct the health in forthcoming quarters. They are master in delivery of lectures in seminars and before media. But this will never happen that health of banks will start improving. We have been witnessing continued deterioration in health of banks for last three decades. Only manipulation and fraudulent methods are used to show banks as shining. Unless and until, purification starts from top and from their heart, I at least cannot imagine of improvement in health of banks or any fall in bad assets.
Respected Sri Vinod Rai will almost fail in its target of cleaning and improving the health of ailing banks in the system he is supposed to work. While in audit, he used to submit report on sickness, irregularities, frauds and scams. But now he has to rectify them and to stop them which is not as easy as it is visualised by Government of India. . It is a hard nut to crack because political leaders as well as bank officers are concerned more with their career and their position in power and in wealth and least bothered about health of banks and that of economy.
RBI Governor Mr. Raghuram Rajan has been making his best efforts to clean banks. But politicians will not allow him to move as freely as he wishes. Further it is not always good to say spade a spade.
It is also true that it is RBI which failed in discharging its duty to regulate public banks. In seventies and eighties, RBI officials used to inspect branches of various banks and there used to be a fear in the minds of bankers. Since 1991, in the name of freedom, in the name of reformation, in the name of privatisation and liberalization, RBI has left everything free and Bhagwan Bharose.
After losing all, RBI has come to senses in last one year or so and only 150 bad accounts pinpointed by RBI has brought almost all banks in red. You may imagine what will happen if all loan accounts are honestly scanned and categorised in appropriate category by bankers. 30 to 40 percent of advances will be found in the category of NPA. And government will be left with only one alternative that is to provide capital to save its image.
You can give your feedback / comments about this Article. Please give only relevant comments as irrelevant comments are waste of time for yourself and our other readers.
blog comments powered by